Club Championship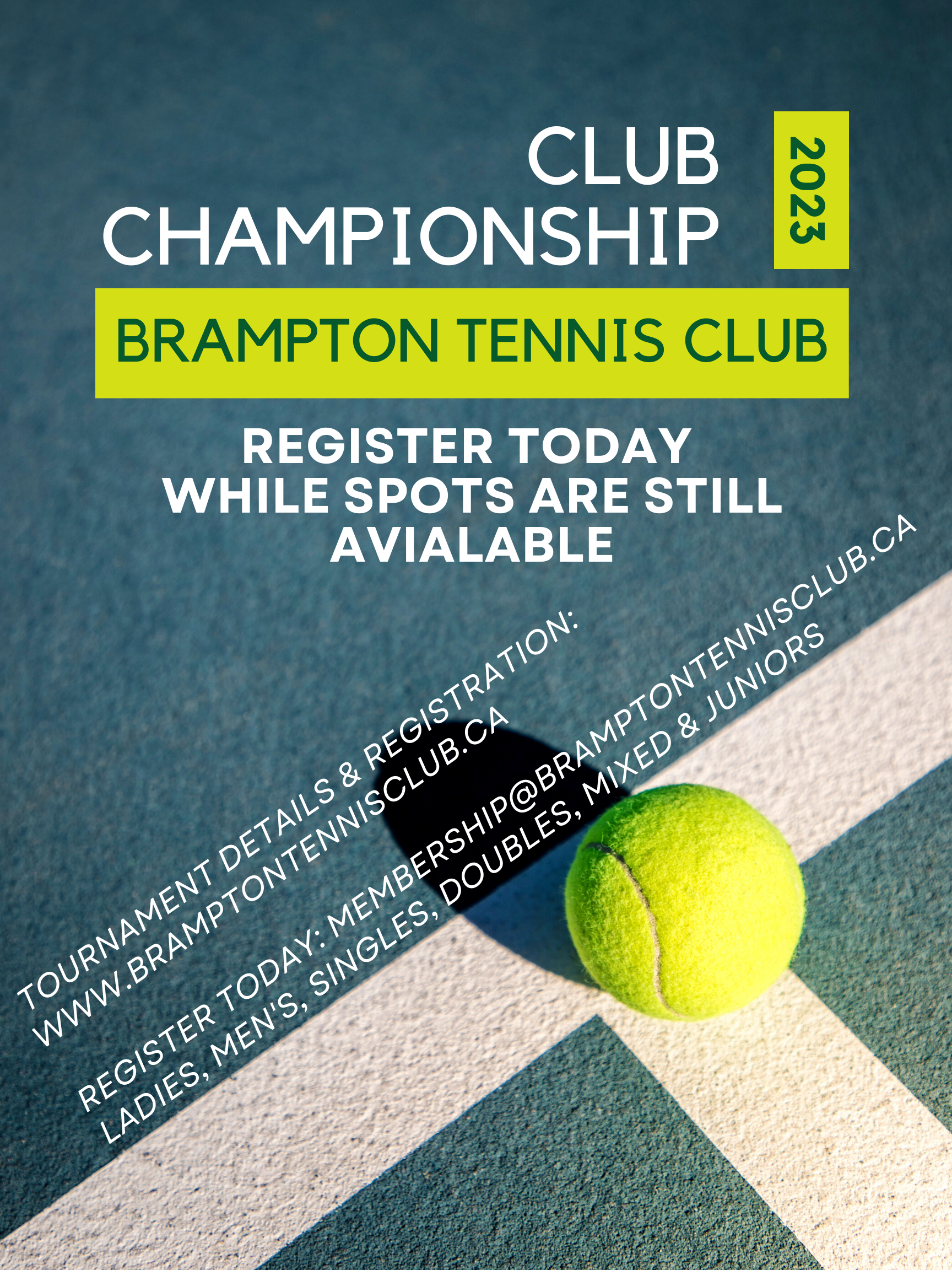 Crowning 2023 Club Champions! 
Tournament will be run throughout the summer.   
Double elimination format.  Consolation bracket to be run simultaneously with the main draw. 
DATES:
Number of Rounds and cut off dates will be determined once we see the number of entries …
(following entry cutoff). 
Champions Weekend - Target Sept 16/17 

AVAILABLE DRAWS: 
Ladies Singles 
Ladies Doubles 
Mixed Doubles 
Men's Singles 
Men's 40+ Singles
Men's Doubles 
Junior Girls Singles (Can play in main draws IF your level of play warrants)
Junior Boys Singles (Can play in main draws IF your level of play warrants) 

ORGANIZERS(s): 
Charles Gembes 
Match results must be sent to organizers for public posting of results. 
Champions Weekend will be run by organizers. Details will follow the completion of the final rounds.

SCORING: PRO 8 SET
The first player/team to win eight games with at least a two-game margin wins the match. Games will be full 'ad'. If the score is 8-7, the match can be won at 9-7. If the score reaches 8-8, a 12-point tie-breaker will be played. During the tie-breaker, teams switch sides after every six points. The first player/team to win seven points with at least a two point margin wins the match. 

RULES: 
1.	All final matches are planned to be played on Champions Weekend - September 16/17. 
2.	Players must be available to play Champions Weekend to be eligible to sign-up for any event. If one opponent is not available to play their match, the match will be defaulted. If both opponents are not available to play, the match will be recorded as 'not played'. 
3.	If you can't meet the criteria in Rule 2, please do not sign up! 
4.	All entrants are responsible for contacting opponents and arranging match dates, times, and locations. Contact information will be listed on each draw sheet. Only Champions Weekend matches are arranged by the organizers. 
5.	Players will bring their own can of new balls to all matches. Please refrain from using Costco balls. Refer to the ball exchange below. 

BALL EXCHANGE: 
Players exchange balls during each match. This ensures the winners will always have new balls for their next match. Here's how it works: 
-	If Team A opens a new can for the match and wins, Team B should give Team A a new can of balls to replace the used balls, and Team B takes the used balls. 
-	If Team A opens a new can but loses the match, no balls are exchanged. 

SIGN UP process: 
Registration is now CLOSED!