Our History
Our History
Tennis has had a long and interesting history in Brampton. Reports of its popularity as a local recreational sport date back to the 1880's. The Brampton Tennis Club originated in 1885 as part of the Brampton Amateur Athletic Association.

The location of the Club in Brampton changed from time to time during its first half-century or so of existence. However, in 1954 the Club sought assistance from the then Town of Brampton and was granted the use of part of Rosalea Park. Over the years there have been significant improvements such as overhead lighting, a clubhouse, additional courts, and an automatic sprinkler system.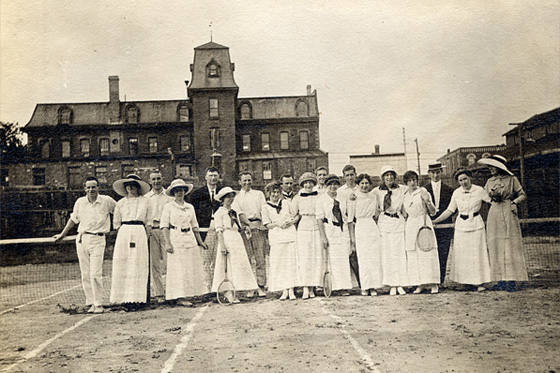 Photograph: The Brampton Tennis Club in 1912 with the Haggert Foundry at the corner of George Street and Nelson Street in the background. Source: "What's All the Racquet?" published by the BTC, Eva Andrews editor, 1988, p.41.

Six Club members – Amblo Wilby, Ralph Adsetts, Cecil Stokoe, Bruce Carruthers, Bobby Mahal, and Rosemary Miller have been recognized by the City for all their efforts and have been inducted into the City of Brampton Sports Hall of Fame.
Hundreds of players have played at the Club. While most simply enjoyed recreational tennis, others with a more competitive nature took their game to a higher level. Some former members of the Brampton Tennis Club have competed internationally. The best known is Jill Hetherington who played in professional tournaments worldwide including Wimbledon.
Thanks to the continued efforts of numerous Club members the popularity of tennis has grown in Brampton and our Club has become a significant landmark on the local sports scene. Today the Club continues to grow with over 350 members and numerous programs for all ages and interests.